Tiger1 Card Features
---
Functions of Tiger1 Card: Identification, Stored Value Accounts Access & Event Access, Board Meal Plans, Tiger Bucks, Bonus Tiger Bucks

Identification
Your Tiger1 Card serves as your campus identification and may be used to verify your enrollment status. This card remains the property of Grambling State University and must be surrendered to an authorized University Official upon request.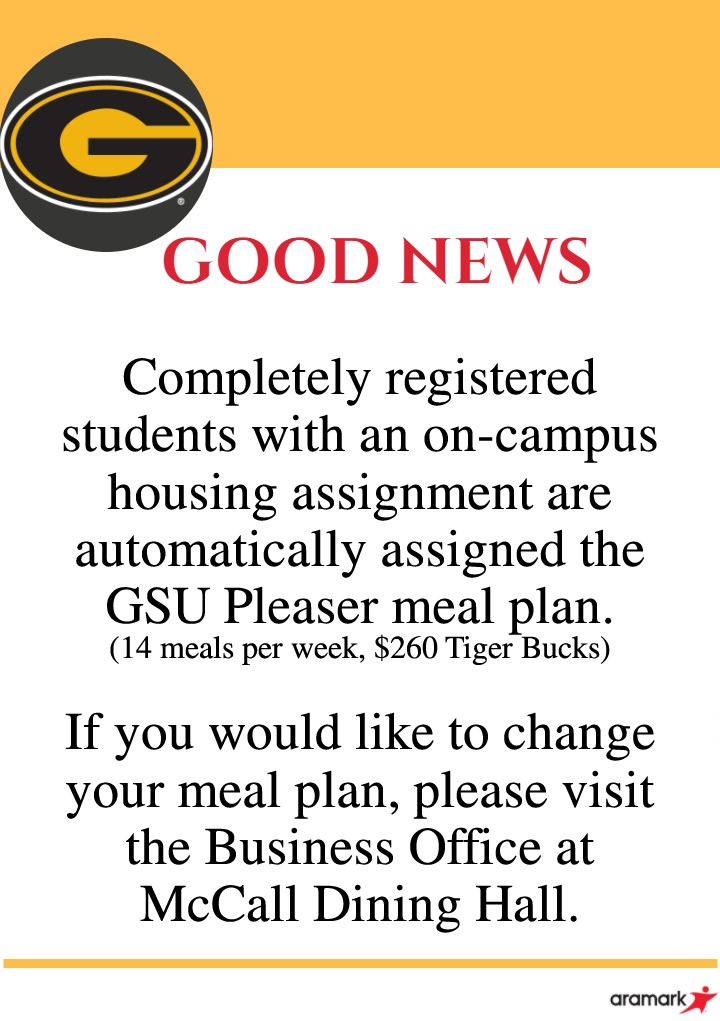 Accounts
Board Meal Plans, Tiger Bucks, Bonus Tiger Bucks
At the beginning of each semester every student has the opportunity to purchase a campus dining plan or Board Meal Plan. The Meal Plan includes a preset number of meals each day and will also include Tiger Bucks. Bonus Tiger Bucks are not associated with purchasing a meal plan. They are purchased by Faculty/Staff to be used solely on campus.

Board Meal Plans are only accessible at McCall Dining Hall. Meal Plans are as follows:


Fighting Tiger: 19 meals per week, $200 Tiger Bucks

GSU Pleaser: 14 meals per week, $260 Tiger Bucks

Black and Gold: 7 meals per week, $450 Tiger Bucks

Here n Now: 2 meals per week, $100 Tiger Bucks




Completely registered students with an on-campus housing assignment are automatically assigned the GSU Pleaser meal plan.
They must visit the Business Office at McCall Dining Hall to change their meal plan.

Note: The Tiger1 Card Office does not have access to load, edit or delete meal plans or Tiger Bucks. Any changes are made through management at McCall Dining Hall with approval of the Tiger1 Card Office Manager.

Tiger Bucks and Bonus Tiger Bucks may be used at the following On-Campus locations:
McCall Dining Hall

Ca$hStreet

Burger King

Panda Express

Home Zone

Taco Bell

C3 (Next to the Tiger Express Food Court)

C3 Express (Inside lobby of JTS)

Food items in Barnes & Noble Campus Bookstore
GFlex Account
Glex is an account into which you may deposit discretionary funds you might want to use to buy books, supplies, snacks, purchases at off-campus merchants, and other things not covered under your campus dining plan.
GFlex may be used at any on campus locations listed above
Barnes & Noble - Campus Bookstore


Purchases can be made at the bookstore using the Tiger1 Card. Students will need to ensure a successful transfer to their

G-flex account prior to attempting to complete a transaction in the bookstore.


If your tuition account has a credit balance you may be advanced a portion of this credit balance in order to purchase books from the campus bookstore.
This account is only valid during registration and any funds leftover will be returned to your tuition account at the end of registration.
Library Access
Your Tiger1 Card grants you access to the campus Library. Your card may also be used to pay for photocopier services.
Athletic Events
Your Tiger1 Card grants you access to all campus Athletic Events.
University Mailroom
Students, faculty and staff may also make purchases from the University Mailroom using their Tiger1 Card. The mailroom only accepts payments using the G-Flex account at this time.
Residence Hall
Your Tiger1 Card may be requested by a Residence Hall official in order to identify you as a current student.

Tiger1 Card also grants access to various events across campus.