About Dr. Earl Lester Cole
For whom the Honors College is named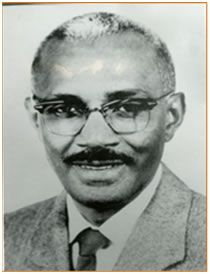 Dr. Earl Lester Cole was one of the great pioneers whose exemplary years of service as an educator at Grambling State University spanned nearly half a century. Earl Lester Cole's tenure at Grambling began in 1936 as a science teacher; advancing through the ranks of the faculty, becoming dean in 1946 and was appointed vice president in 1969.
"Dean Cole'' as he was affectionately called even after assuming the vice presidency, can be remembered for his active involvement in implementing curriculum which is considered to be the cornerstone to courses now being offered at Grambling State University. Even after his retirement in 1977, Earl Lester Cole continued to advise members of the faculty and administrators.
Dean Cole was highly respected by his former colleagues and students and is described as a true professional, a good administrator, and a truly outstanding man who is credited for the positive influence in the educational advancement of his former students. Honesty and a fullness of integrity were accolades from those who knew him well. Over the years, he had been recognized for his numerous contributions to Grambling, culminating in the naming of the university's honors college, the Earl Lester Cole Honors College.
His influential involvement in the community brought several businesses to the university and as an active member of New Rocky Valley Baptist Church, "Dean Cole'' was instrumental in the construction of a building for the church.
Earl Lester Cole succumbed after a prolonged illness at the age of 89. He can be remembered as a man who gave much to the field of higher education at a historically black university, always exuded a commanding presence during his lifetime.
U. S. House of Representative Julian C. Dixon
California 32nd District (1993-2000)
Capital Words